Families affected by juvenile dermatomyositis (JDM) came together this month for a JDM open day organised by Great Ormond Street Hospital (GOSH).
JDM is a rare autoimmune condition affecting 3-4 children in every million per year in the UK. Children of any age can be affected and girls are twice as likely as boys to have it.
The day was a chance for families affected by JDM to meet others, learn more about the condition, hear about the latest research, and discover ways to manage.
This was the fourth year GOSH had organised the open day. This year they extended their invitation to families outside the south-eastern region. One family even travelled down from Scotland.
GOSH were well placed to hold such an event, having been running a study on JDM for the past 20 years. To date, some 608 families have participated in the study. The data and samples generated are helping to improve our understanding of the condition.
Myositis UK were invited to the day, along with a host of consultants, research teams, psychologists, physiotherapists and the charity Versus Arthritis.
A day about juvenile dermatomyositis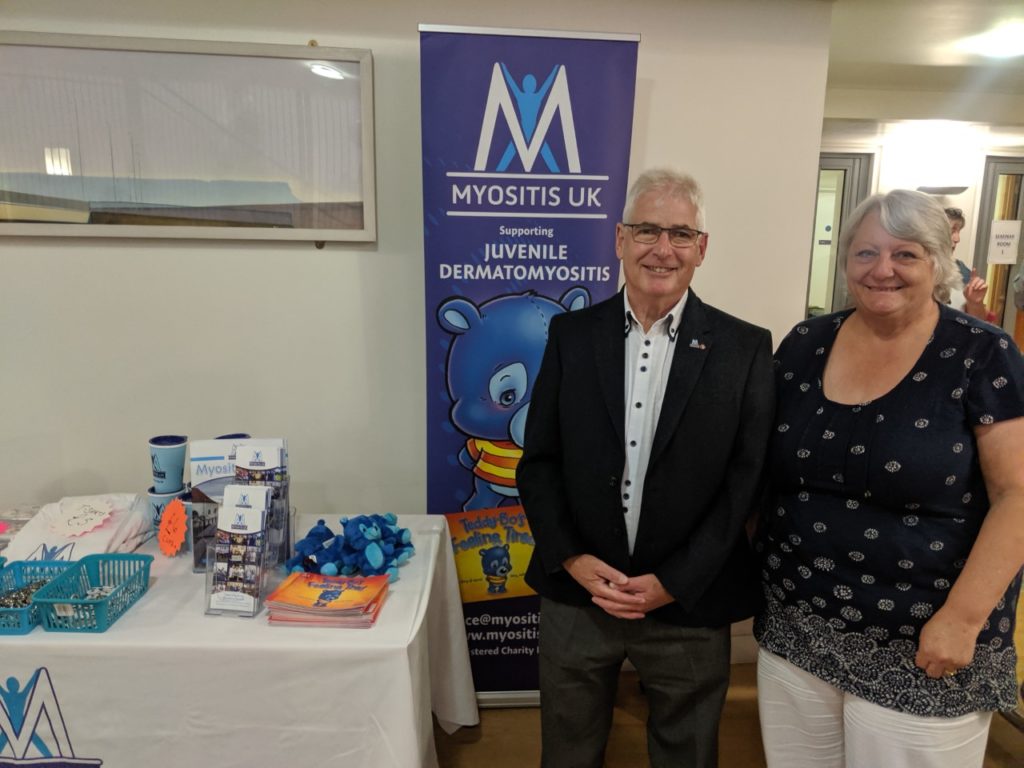 The day began with an introduction to juvenile dermatomyositis by Dr Muthana Al Obaidi, a consultant at GOSH. This was followed by an introduction to the research team by Dr Lucy Wedderburn.
A research update was then given by Dr Charalampia Papadopoulou. This included initial results of a clinical trial of the drug Baricitinib. There was then a call for more involvement in research by those at GOSH running the myositis study.
Irene Oakley from Myositis UK then gave a quick talk about the aims of the charity, shortly followed by a young volunteer from Versus Arthritis.
Break out groups
It was then time to break out into different groups for sessions individually tailored to specific age groups. The psychology session was run by psychologists Rebbeca and Ewa and encouraged us to focus on the strengths and resources we have available to us to help manage life with myositis.
Next was a session on the importance of physiotherapy by Lauren Stone, a specialist physiotherapist in paediatric rheumatology at GOSH. She explained what we mean by biomechanics (essentially the movement of the body). She also went into detail on why physio is so crucial for children with JDM as they often experience the repercussions of using alternative muscles to try and keep up with their peers.
There was then a session on fatigue by Dr Vinay Shivamurthy, highlighting how difficult a cycle it is to break. He talked about muscle weakness leading to reduced physical ability, loss of appetite and sleep which then perpetuates fatigue. This is why it's so important to take a holistic approach to treating myositis that has patient wellbeing at its core – something GOSH try to do.
There was then time for a quick Q&A session before a break, followed by everyone coming back together for the final afternoon talks. This included a series of research presentations and a bigger Q&A session.
We would like to congratulate our friends at GOSH for holding such an excellent event and for their continued efforts in helping to improve our understanding of this rare muscle disease.
Published: 24/09/19