Who we are
Les and Irene Oakley set up Myositis UK back in 1988 after their daughter was diagnosed with juvenile dermatomyositis.
Today the charity is still run by Les and Irene, along with a small group of dedicated trustees, volunteers and medical research advisors.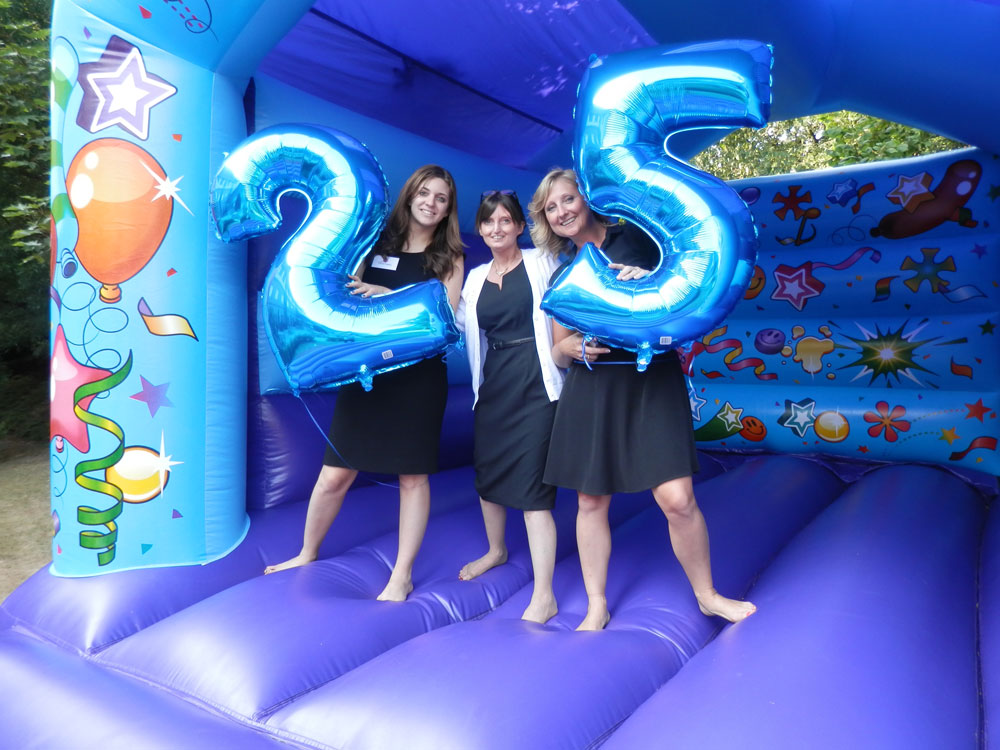 Staff
Irene Oakley – Myositis UK co-ordinator
Irene is a part-time employee – and only employee –for Myositis UK. She is responsible for the day-to-day running of the charity, from responding to enquiries and sending out mailings, to organising the annual conference and running stalls at major medical conferences.
Naturally, Irene is very busy but central to the smooth operation of the charity. She volunteers a lot of additional hours to the charity too, particularly around fundraising events.
Board of trustees
Les Oakley (MBE) – chair
Les is the chair of Myositis UK's board of trustees and takes a very active role in the running of the charity around his full-time job, from speaking at events to writing the newsletter.
He can usually be found in the office at least once a week, catching up on correspondence and liaising with funding contacts.
Les is also a dedicated fundraiser, having raised money for Myositis UK by cycling from Paris to Hayling Island, running the London Marathon (twice), and abseiling the Spinnaker Tower. Outside his place of work, he also runs a second-hand bookstall which has raised over £50,000.
In 2005, Les was awarded and MBE for services to people with myositis.
Board of trustees
Paula Jordan – honorary general secretary
Paula is the honorary general secretary and volunteers on a regular basis for Myositis UK, providing Irene with administration support. From updating membership lists to writing articles for the newsletter and website, Paula provides a much-appreciated pair of extra hands. She also helps to run Myositis UK's Facebook pages.
Paula also gives talks and attends medical research meetings (UKMyoNet, JDRG-MUK and the International Myositis Genetics conference). She is a MyoNet (EuMypNet) external representative and has completed the Myositis Summer School in Sweden. She was diagnosed with juvenile dermatomyositis when she was a child.
Board of trustees
Jo Goode – honorary treasurer
Jo is the honorary treasurer, providing regular treasurer duties. She also maintains the forums in our online community zone and helps to run our Facebook pages.
Jo also represents the charity at meetings and fundraising events and organises regular meet-up sessions for those affected by myositis. She was diagnosed with dermatomyositis.
Volunteers
Bridget Kalloushi
Bridget is Myositis UK's auditor. She kindly donates her services for free.
Volunteers
Janet Horton
Janet is a Welfare Advisor and volunteers her time to Myositis UK and other charities.
Volunteers
Barry and Sheila Eckford
Barry and Sheila help at fundraising events, the AGM and conference.
Volunteers
Bruce and Margaret Cross
Bruce and Margaret help at fundraising events,the AGM and conference.
Medical, clinical and research panel
Myositis UK also has a medical, clinical and research panel. The doctors and researchers who are members of this panel are actively involved in treating or researching myositis in the UK.
Some of these experts will have, or have had, projects funded by Myositis UK. Many of them attend Myositis UK's annual conference to update members on their projects and answer questions.
Myositis UK may ask members of the medical, clinical and research panel to review research proposals they are not directly involved in.